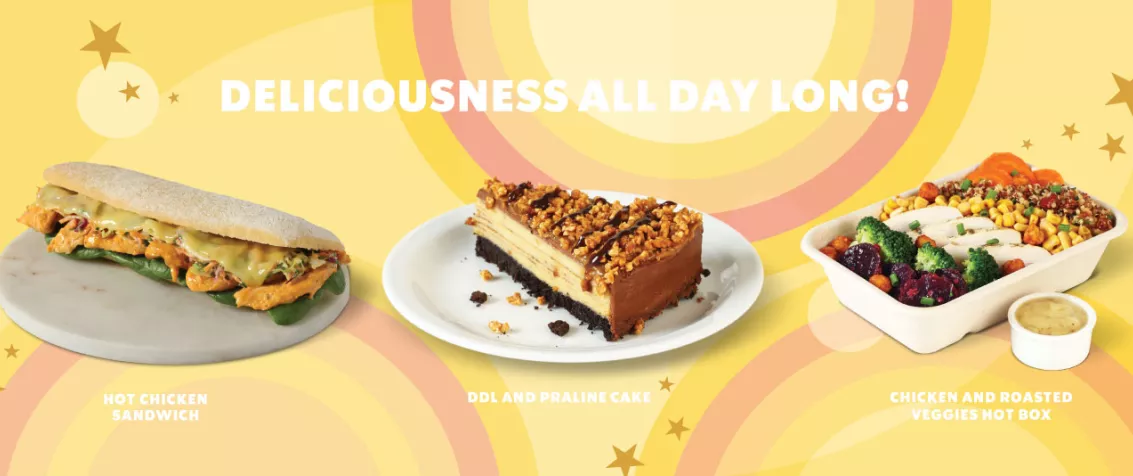 Winter Cravings! Satisfy yours at Starbucks ⭐
Holiday season may be over, but that does not mean deliciousness need to stop! Indulge your taste buds with 3 fabulous treats that we have for you at Starbucks. Make your winter moment extra special with food to suit your every mood. Check out our 2022 winter offerings below:
1. Hot Chicken Sandwich
Sometimes, all you want in a chilly winter day is something baked hot to perfection. For all those days, dig into the yummy and spicy Starbucks Hot Chicken Sandwich, made with Ciabatta bread and filled with baked marinated chicken coated with dynamite sauce and topped with crispy coleslaw and cheddar cheese. Pair it with your favourite Starbucks Beverage for a phenomenally recharging lunch.
 
2. DDL and Praline Cake
Winter is for indulgence! Make most of this sweater weather by treating yourself to our delectably sweet and crunchy DDL and Praline Cake. With a crunchy chocolate cookie crust layered with delicate crepes, filled with caramel pastry cream and roasted almonds, and covered with chocolate cream frosting, this is a treat that you don't want to miss. And, let's not forget about the rich topping of the Dulce De Leche Sauce and caramelized roasted almonds. Guarantee to taste as yummy as it sounds!
 
3. Chicken and Roasted Veggies Hot Box
Hot, protein packed lunch on a winter day, we don't know how it can get any better! Try out our newest addition to the menu – Chicken and Roasted Veggie Hot Box, that combines quinoa, chickpeas, roasted veggies and baked marinated chicken with a dressing of lemon Dijon mustard sauce. Tastier, filling and nutritious – Need we say more! Did we mention that it is super easy to eat on the go?