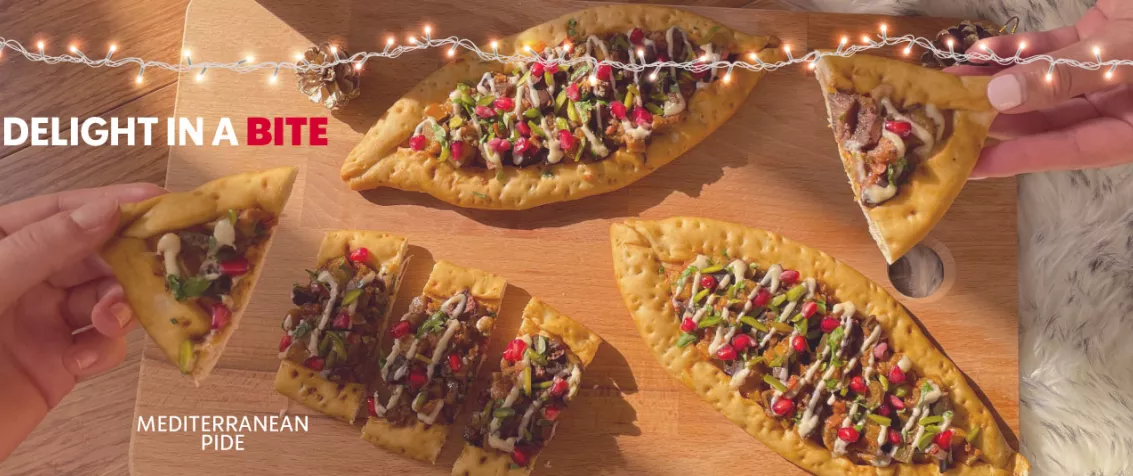 Start your Holiday with Pide
At Starbucks, we believe in making the holiday season special for everyone. We are always thinking of new ways to treat you, especially during the festive celebrations. We may delight in our meat-based holiday recipes, but creating unique vegan holiday food just for you makes us all the more excited! So, this holiday, we are thrilled to introduce our Mediterranean Pide – a perfect holiday treat that you can enjoy with your Toffeenut Latte.
Tuck into the savoury pide bread filled with sautéed eggplant, onion, garlic, spices, sumac and topped with pomegranate and tahina. Create a memorable holiday moment as you sit together with your friends and family to share a bite.
And for over the table conversation, we have some interesting facts about Pide:
1. Did you know Pide originated in Topkapi Palace in Istanbul, Turkey during the reign of the Ottoman Empire?
2. Pide is often lovingly known as Pita in many countries around Middle East
3. Pide is pronounced as "Pea-day", and can be eaten at any time of the day