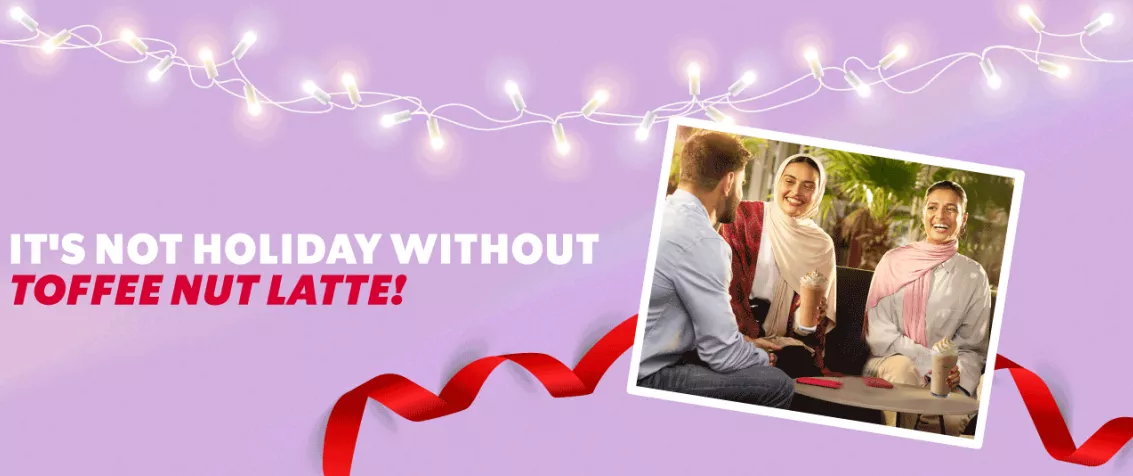 The Iconic Festive Flavour is Here!
Time to cheer, time to share, for the festive season is here! It's that time of the year again – the season of joy and we are thrilled to announce the return of the festive favourite Toffee Nut Latte, at a store near you and on delivery. There's a cup with your name, waiting for you.
The all-time seasonal favourite, Starbucks Toffee nut Latte 2021 is all about cozy comfort to warm you up in this winter and reignite the joy of celebration in your heart.
Prepared with 100% Arabica signature espresso with velvety steamed milk, Toffee nut Latte is happiness in a cup as it combines the rich, buttery taste of sweet toffee with the warmth of toasted nuts. The crunchy toffee nut springles on top of the whipped cream makes this seasonal drink just the perfect indulgence to start the holiday season early on.
But, what really is a Starbucks Toffee Nut moment?
1. It's when you take the first sip and feel nostalgic about the year it's been and you start winding down
2. It's when you share happiness as you catch up with your friends over a steaming cup on a chilly night, those moments where you lose track of time
3. It's the smile in your face and twinkle in your eyes when you catch a break to indulge during or after a busy day at work
For all your happy moments and more, it is your delight that we want to bring to you all season long. You can enjoy the Toffee Nut Latte as hot, Iced or Frappuccino – any way you like it.