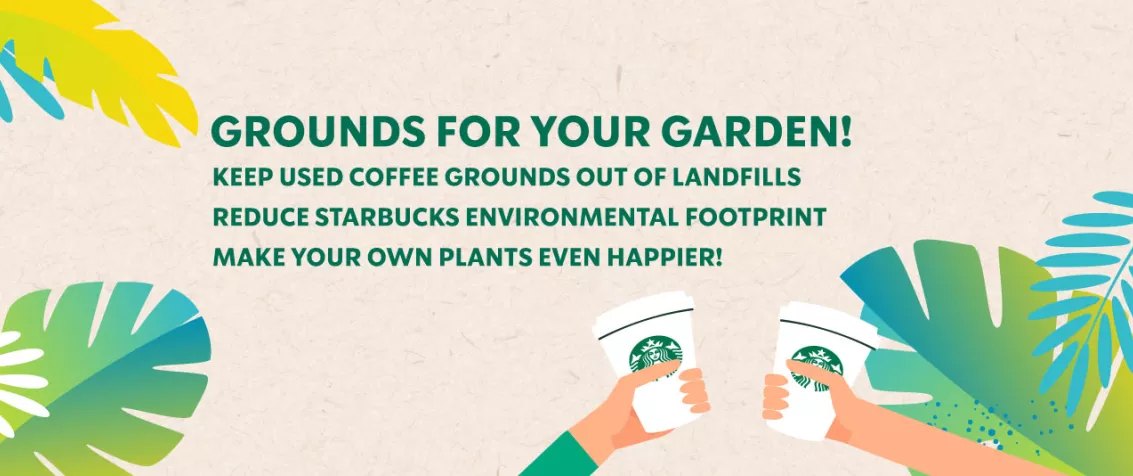 Grounds for your Garden! 
Ever wonder how far a coffee bean could go? Beyond the daily hot cup of coffee you enjoy, we have found a way to use coffee grounds to nurture and give back to the environment.
Coffee grounds are a great source of nutrients for your flowers and plants. Inspired by this, Starbucks started its Grounds for Your Garden program in 1995.
This is where spent coffee grounds are carefully packed into bags, for you to take home and use on your garden. You can learn more about this initiative here.
Used coffee grounds make excellent compost, particularly for plants that flourish in acidic soils. Here are three ways for you to use our coffee grounds.
Mixed directly into soil around plants, such as heathers,  rhododendrons, azaleas , magnolias, hydrangeas and camellias
Added to compost to help accelerate the composting process
Applied as top-dressing to fast growing vegetables, hoeing into the soil to avoid contamination of foliage.
For best results, the coffee grounds should be no more than 25% of the total compost pile content; the remaining 75% would be the soil. Coffee grounds should be mixed well with the soil to allow air to ventilate the compost pile.
Coffee grounds should be used within 2-3 weeks of brewing in order to capture the most nutritional value.